This post is fulfilling a requirement for the Participate Module of Georgia Professional Learning .  In this section we have focused on a learner's Access to Digital Community.  The goal of this post is  to describe the  levels of access to digital resources, barriers to them & how we can eliminate these barriers. 
*************
Disclaimers: 
I am thankful to Pew Reserch center for  Fact sheet on internet-broadband 
The sections on disability as a barrier to digital learning and how we can eliminate them borrows heavily from Web Accessibility in Mind (WebAIM).  The YouTube video is also from WebAIM. 
Some of the text is verbatim from source material.
****************
In the previous posts, we talked about digital citizenship and digital literacy.  Now, we will explore civility within the digital community.  Foundation of a civic society is community access to all citizen. With that in mind, First question we ask is: 
What types of barriers might impede students' opportunities to access the digital Community?
United states of America (USA)  is considered a first world country where equality and fairness should allow all citizens equal opportunity to progress and achieve their dreams.  Unfortunately, though a noble concept in theory, it fails short of reality.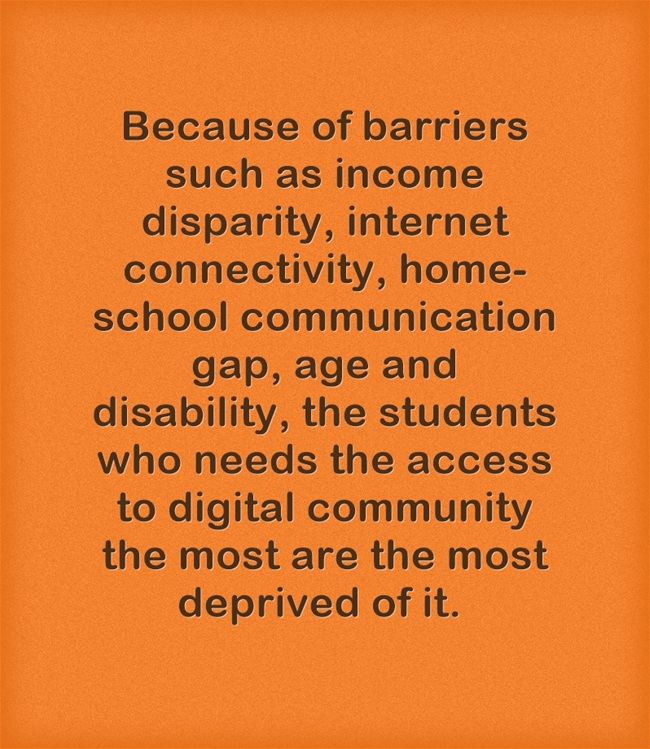 Income Disparity & Rural Residential Area as Barriers Access to Digital Community  
According to The Pew Internet and American Life Digital Differences Report,
Racial minorities, older adults, rural residents and those with lower levels of education and income are less likely to have

broadband

 service at home.  

Younger adults, non-whites and lower income Americans are more reliant on smartphones for internet access.
When faced with poverty,  paying bills and keeping roof over family takes precedence over being digitally connected.  Internet and healthcare are often casualties of keeping hunger at bay.  Though they may possess it the smartphone is not fully functional tool to carry out tasks such as taking tests online, submitting homework or creating an e-portfolio.  The learner may not have necessary tools such as personal learning device or broadband available at home.  The parent/guardian may not see the need for allowing a learner access to  internet.   As a result the learner will be  deprived of the access to digital community. 
Poverty or lack of home-school communication is not the only barrier.  In rural areas internet may not be available at all, be splotchy due to lack of available broadband or having too many tress on the property.  Our home is surrounded by many trees in a rural area.  The highest broadband we can receive in our area is 3 Mbps.  As you can see below, Ookla Speed Test gives our internet D+.  Some of our neighbors have to resort to paying for putting a small cell tower on their property for several thousands dollars.  Obviously, this option is not possible for everyone.
Image: result of Ookla Speed Test
Disability as a barrier to access to Digital Community: 
Until I researched for this assignment, I did not realize how much I take my ability of reaching out to digital community for granted.  To show what I am talking about, I would like to share a YouTube Video and the transcript of the video.
ASD Introduction to Web Accessibility Video Transcript
Web Accessibility in Mind (WebAIM)  works toward educating public of how disability hampers a learner from digital access as well as provides us with resources to remedy for that.  According to WebAIM, major disability of the web users usually falls in one of these catewgories:
Visual disability: Blindness, Nearsightedness, Color-blindness
Hearing disability: Deafness & hard of hearing
Motor disability: Inability to move mouse, slow response time, limited fine motor control
Cognitive disability: Learning disability, distractibility, Inability to remember or focus on large amounts of information
Some of our learners are also faced with photo epilepsy or age related prepossessing issues.   
Once we are aware of the barriers, we must ask ourselves what might we do to eliminate such barriers?
Depending on the situation, we can work around barriers to the access to digital community. e.g.,   We can provide all students personal learning device which they can take home.  The educators can accommodate the students to upload assignments and study tools which they may be able to use offline at home.  Scheduling study hall(s) or extra study classes and allowing students access to robust internet before or after schools is another way schools can assist students access to digital community.  Local Public library is a good resource for digital access; unfortunately, many poor and rural learners are not able to fully utilize it. 
 As the students in above video suggests, little changes can go long way to assist our differently able learners and make life easy for them.
In September 2017, World Wide Web consortium, W3C, recommended accessibility guidelines based on four principles:
Perceivable: Content should be available to all senses either through the browser or through the assistive technology e.g., screen readers, enlargers etc.
Operable: Users can interact with all controls and interactive elements using either the mouse, keypad or an assistive device.
Understandable: Content is clear and understandable. 
Robust: A wide range of technologies including old and new user agents and assistive technology can access the internet.
Let look at the two images below: which one is easier for you to read?  Which would our student with visual or perceptual concerns?
Finally, the best barrier remover for the learner is empathetic educator.  By making sure to fight for her learner's rights to education, a sensitive educator will make ensure her learners access to digital community.