March is National Reading Month. 
Woo Hoo.
Did I say, once upon a time we lived in New Jersey, the Garden State, whose winters can give the Wisconsin winters run for their money?  Amaze and I read all the time, OK I read, she participated as she was a itty bitty bubbie.  She loved to be read to and asked a gazillion questions about what we were reading.  So when I had another munchkin and I was packing for the move to several states over, I needed to find ways where her love of reading will continue.
Guess what did I find?  Storylineonline.  A treasure trove of stories read by celebrities who are members of the Screen Actors Guild.  Oh! How I love them still. We listened from wide variety of readers including Darth Wedder AKA James Earl Jones and  Vice-President Al Gore who I bet had read many many stories to his kids.  May I share couple of them?  Thank you.
No Mirrors in My Nana's House
Author: Ysaye M. Barnwell
Illustrator: Synthia Saint James
Read by: Tia & Tamara Mowry 
This is a book based on a song.  I like the questions Tia & Tamara asks: "If there were no mirrors in the house, will there be less stereotyping?".  I think "No mirror in my nana's house" means  Grandma's home = acceptance & non-judgement. This book is special and you may find us humming the bars from the song at random times.    
Bad Case of Stripes
Author & Illustrator: David Shannon
Read by: Sean Astin
A book read by Sam Gamgee?
Added bonus: the book teaches kids to not be swayed by others AND eat their Lima Beans 🙂 
Hope you like these stories.   Now your turn to reflect, give feedback and share.
---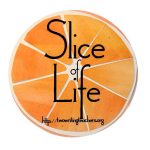 I am writing this post for11th Annual  Slice of Life Story challenge hosted by  Two Writing Teachers .   On Tuesdays and During whole month of March, we will share a slice of our lives.  You are invited to join too.  
#SOL18