I am pa

participating in Reflective Writing Club, a six week collaborative experience offered by Online Network of Educators.  This Post is written as a reply to prompt for Week #2, conference.
Going to in-person conference has multiple benefits.  It allows an educator to network, learn new skills, interact with some awesome colleagues and present their ideas to a wider audience.  Attending a conference may introduce the attendee to rock stars of the field and open up doors they even did not know existed.  Did I mention the goodies we can bring home at end of the conference?
On the other hand, the cost of attending conferences and the time away from family may make attending one prohibitive.  e.g., as an independent educator, attending 2018  NCTM  Annual conference and Exposition  in Washington DC will cost me
$2485.  Not a small chunk, Ya?  
Does that mean, I stay away from attending conferences? 
No, I do attend local conferences when:
Attending a conference is NOT cost prohibitive.

It does not keep me away from my family for a long time.

It gives me bang for my buck.
Recently I attended University of Scouting, a one day conference run by Samoset Council of Boy Scouts of America.  This volunteer led conference is aimed at teaching the Adult Scout Leaders and Scouts leadership and personal skills; from Cub Scouts to Commissioners, there is something for everyone.  The Registration fee was reasonable: $11 for Adult leaders and $6 for a Scout.  The commute to conference was not even a concern; a 45 minutes drive each way gave Awesome & me much needed time to talk as well as listen to Heart & Soul by Maeve Binchy.  Win-Win all around, ya?  At this conference, I was a presenter for 3 sessions and a student for 2 sessions.  The learning did not stop at the end of the conference.  I will share the knowledge by offering additional sessions to my troop, mentoring and  sharing during committee meetings.
Conference & Digital  Citizenship:
In past, going to conference was synonym with in-person conference.  Now, digital citizenship allows several alternatives.  Sometimes, the conferences are live streamed or recorded and available at a later date.  Let me share some of the alternatives I came across and may have participated in this year:
Online Conferences saves travel time and cost while giving many benefits of in-person conferences.  e.g., Global marathon, Smithsonian- Symbols of Diplomacy.  
Webinars can be equivalent to a session or a full day conference.  Supporting Students Digitally, 
Twitter chats can act as mini-conferences and is a great tool for professional development.  I find #Edchat,  #mschat, and #MtBos  good resources for networking.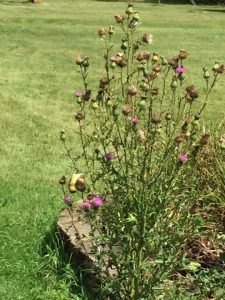 Blogging Challenges are opportunities to present my voice to wider audience and connect with other educators.  We can also use comments as mini-conferences. I have reached more educator-writers in 20 days of  Slice of Life Challenge than in previous 2 months.  
Visiting Other educator's blogs are like attending key note speeches and presentations to gain exposure to ideas.  Kevin and Sam Shah not only teach me something new each time I visit their blog, they make me widen my horizon by introducing me to new concepts and other bloggers. Networking anyone?
What are your views on conference and its impact on you?
---
NCTM = National Council of Teachers of Mathematics
Prompt for the Reflective Writing Club Week 2
Conferences:
What was the last conference you had attended in person?
Attending the
Conferences play a big role in expanding and nurturing an educator's Personal Learning Network.
Discuss the role that attending conferences plays in your professional learning

Reflect on one valuable conference experience you had and discuss why you found it valuable.

Let us know what happens once your conference experience is over. Do you share what you've learned and, if so, how and with whom?
#CCCWrite